It's been three years since the last major international tournament – the palpable anticipation and excitement ahead of the European Championships can be felt emanating across the continent. For Italian fans and players though, these emotions are amplified by a longer absence from international competition.
In November 2017, Italy were left devastated as they lost their aggregate tie to Sweden 1-0 and failed to qualify for the World Cup finals for the first time since 1958. Gian Piero Ventura was dismissed almost immediately following this national embarrassment, with former Manchester City and Inter Milan coach Roberto Mancini later taking over the reins.
Since then, it has been a lengthy and arduous process for Gli Azzurri. However, they are finally back to where they belong with an opportunity for redemption at the European Championships. And how fitting it is that Italy will be the ones to commence the tournament.
This Friday evening, Italy and Turkey are set to face off against each other as the main attraction of Group A, beginning a month-long tournament that will eventually crown one winner amongst the 24 participating nations.
Turkey have experienced a similar absenteeism from tournament football. Their last game was just under five years ago against Croatia, in the last iteration of this tournament. However, despite both of their recent nonappearances, the two teams have been selected as many people's dark horses for the competition. Here's how they stack up against each other ahead of their clash.
Italy
Currently on a 26-match unbeaten run, of all the teams participating in the competition, Italy undoubtedly arrive with the superior form.
Italy's imperious defence will almost certainly be the key factor in their pursuit of success this tournament. In their 26 matches, the team have conceded just 9 goals. At the epicentre of this back-line, Giorgio Chiellini and Leonardo Bonucci are still seemingly Mancini's most trusted centre-backs. They are able to provide defensive solidity both aerially and on the ground, whilst their expert passing ability allows Italy to build from the back.
At right full-back, Alessandro Florenzi is favoured. Whilst the Paris Saint-Germain loanee is capable of moving forward, his main function also comes defensively – tending to stay in the back line. This eases pressure on the central-most defender (Bonucci), affording him greater freedom with his passing. Alternatively, the left-back (a toss-up between Leonardo Spinazzola and Emerson Palmieri as to who starts) has a more offensive duty to the team. They are expected to advance down the flank, offering width in an attacking sense, and acting as a passing option in distribution to progress the ball quickly.
This defensive unit is often shielded by a double pivot consisting of a combination of Jorginho, Manuel Locatelli or Marco Verratti. These players offer accurate long passing that allows Italy to progress the play and explore different avenues in attack. Meanwhile, Nicolò Barella is given licence to maraud forward, often pushing up into the right half-space but being generally explorative in the final third in the pursuit of goal contributions.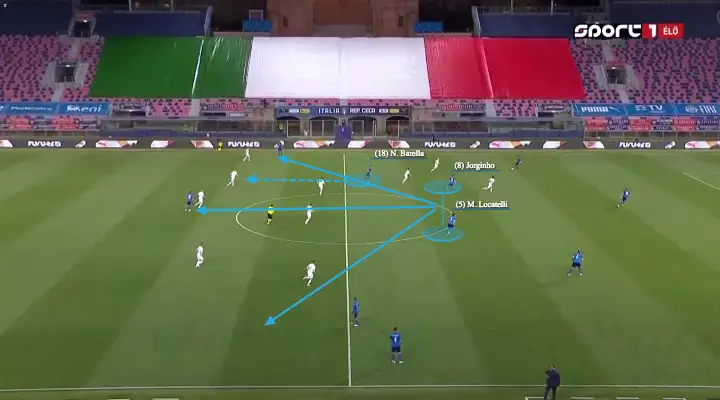 Finally, the team is led by a front three of Lorenzo Insigne, Ciro Immobile and either Domenico Berardi or Federico Chiesa.
Insigne undoubtedly has the most liberated role in this side. Due to the left-back's advanced positioning, he is afforded the freedom to move inside. He will often roam around in pursuit of space and is a key contributor in link-up play as well as attacking threat – akin to a traditional trequartista.
On the opposite flank, the right-winger will hold a wider position although, later in attacks, he will look to cut in from this side. Ultimately, this is intended to complement Barella's strengths, and as a united force, it is a very challenging threat for opposition players to deal with.
Up top, the team is led by Ciro Immobile – although there is an outside chance Torino talisman Andrea Belotti could start. He too can contribute in the build-up for Italy. However, his key contribution is as a poacher, predator-like in his movements and finishing.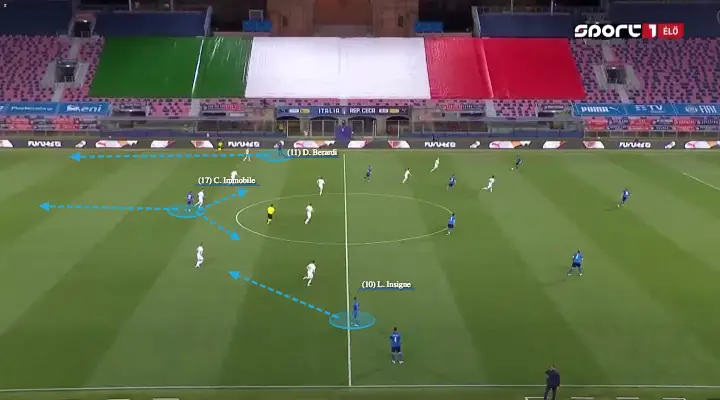 Transitionally, Italy are fairly direct. They utilise the strong passing ability of their centre-backs and midfielders, whilst catering to the quick and dynamic movements of their attackers.
However, despite their defensive solidity, the Azzurri always look to be at the forefront of games, dictating play. Whether that involves recycling possession or putting the opposition under pressure depends on the phase of play.
Out of possession, they maintain their solid initial structure of a 4-3-3 or 4-1-4-1 and look to press assertively against weak opposition. This translates to an aggression in duels also, with one defender often stepping out of the defensive line to contest aerial balls. Furthermore, they aren't opposed to breaking their structure to harry the opposition if they are acting passively in possession.
Turkey
Şenol Güneş is a name many may not necessarily be familiar with in the Western European footballing community. Nevertheless, the manager is an icon in Turkey and has had a hugely successful managerial career.
Between his prosperous stints at Trabzonspor and, more recently, Beşiktaş, Güneş is most renowned for guiding Turkey to a 3rd place finish at the 2002 World Cup. Given the footballing stature of the nation, and that they failed to even qualify for the tournament succeeding this, the magnitude of the accomplishment is truly illustrated. Güneş later received job offers from Greece, Brazil and Spain but turned them all down to remain at his beloved Turkey – before being sacked in 2004 after failing to qualify for the European Championships.
However, after a 15-year absence from the international stage, Güneş returned to his role as the Turkish head coach – this time managing to secure qualification to the Euros. Though, some anticipate Turkey's account will run further than this.
Nearly 20 years on from his miracle-working in Asia, and Turkey have a similar under doggish sense surrounding them ahead of this tournament. With players Italian fans will be familiar with such as Hakan Çalhanoğlu and Merih Demiral to Lille's prolific frontman Burak Yılmaz, the squad isn't deficient in talent. Furthermore, Şenol Güneş has also won many plaudits for his coaching of the squad, transforming the national team into a cohesive unit fit for purpose.
Favouring a 4-1-4-1 formation, the manager has adopted a fairly counter-attacking style. They have a predilection for aggressive pressing against passive or weak teams but will often sit deeper against strong passing teams – prime example being Italy. Okay Yokuşlu is a key player for this, screening the defence and affording limited space between the lines.
In the example below, Turkey have pinned the Netherlands to one side of the pitch and condensed the field of play. Here, Kenan Karaman, can be seen to be initiating the press on almost the touchline – giving the opposition little time to react and play their way out of danger. Furthermore, Ozan Tufan can be seen anticipating this, prepared by his positioning to immediately pounce upon the opposition.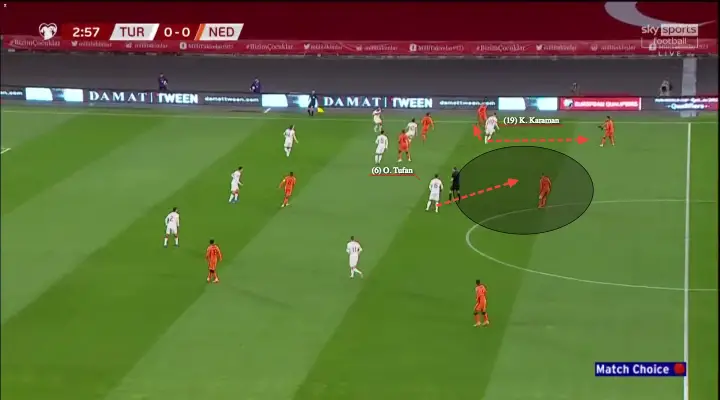 Turkey are an astutely coached side and their pressing intelligence is undoubtedly their main talking point. Teams struggle to match their high-intensity play and can often crumble – the Netherlands went on to lose this game 4-2.
By contrast, in possession, Turkey favour bringing the ball out from the back. Çağlar Söyüncü is particularly comfortable in bringing the ball forward and Turkey will almost invite pressure onto them to initiate quick, vertical passes up the pitch. The wingers will cut inside when attacking and the team also is very capable at playing out of tight situations and switching the play – often catching opposition teams out.
Match-up
For all Turkey's strengths though, to bet against Italy in this tie would be absurd. Mancini has established something really special with his roster of players and you do not lose just two games in charge to be trounced upon when a major competition finally arrives.
Quality at full-back is the main worry and could well be something Turkey look to exploit in the opening match. Additionally, whilst some might view the centre-backs as experienced, others could question whether they now lack mobility. Considering Italy have conceded just 14 goals in 32 games under Mancini though, It's hard to imagine that this is an issue that Italians are losing sleep over.
Turkey cannot be discounted, though. Unlike many smaller footballing entities, Güneş ensures his teams are anything but inert when facing heavyweights – such as Italy. Turkey will look to soak up pressure and unleash deadly counter-attacks which Italy must be both aware and patient of. They also will be keen to rile up the Italians throughout the match, looking to capitalise on any lapses in concentration. And, they also have a key weapon in their arsenal in Hakan Çalhanoğlu. The playmaker is one of the elites when it comes to dead ball situations and this too could be a passage they are keen to exploit when the opportunity arises.
However, whilst it is likely Italy can overpower Turkey's defence, it seems improbable that the reverse could happen. Italy have such a strong defensive unit, playing into past stereotypes, and for Turkey to score more than a goal past Donnarumma would be surprising.
Therefore, the Azzurri will be confident in electrifying the nation with a barnstorming opening to the tournament. Alternatively, whilst Turkey will be poised heading into the competition opener, they have little pressure on their shoulders with the opportunity to defeat Switzerland and Wales later in the group.
One thing to be confident of though, is the entertainment of the competition opener. It promises to be a tactically enigmatic encounter by two footballing masterminds and a talented bunch of players. With any luck, it will set the tone not only for a promising competition for Italy, but the tournament as a whole.