It's always magical to watch the players parade onto the pitch ahead of their opening match of the season. Perhaps it's relief that football has finally returned, or maybe a sensation of excitement, in anticipation of what is to come. Ultimately, the feeling always boils down to that metaphorical clean slate, though – a chance for each team to redeem themselves from past failures – and nobody had more to prove on Sunday than Andrea Pirlo.
When the stylish – both on and off the field – midfielder departed Turin for New York in July 2015, many questioned whether that would be the end of his involvement within Italian football. Just a year previously, Pirlo wrote in his autobiography, "I wouldn't bet a single cent on me becoming a manager", and many believed that this was truly the end of the Italian's footballing escapade.
Pirlo's skillset always did lay within the beautiful game though, and clearly not at the gambling table, with the former Juventus man returning to undertake a role as the manager of their under twenty-three side in August 2020.
This undoubtedly took many aback given his previous comments but, even more shockingly, he was appointed as the replacement to Maurizio Sarri just nine days later, in what has to be considered one of the quickest promotions in history. This selection deservedly sparked much social media debate but, ultimately, Pirlo made an ideal start to his tenure as the boss of the Bianconeri with a 3-0 win over Sampdoria. However, the scoreline undoubtedly flattered Juventus, with the side marginally overperforming their expected goals (2.7) whilst Sampdoria dramatically underperformed theirs (1.49).
So, what can we take from Pirlo's first match at the helm, how does this compare to past managers and does this bode well for the future?
System
Andrea Pirlo stuck with his seemingly favoured three at the back formation, which was premiered in a pre-season friendly versus Novara in which they were 5-0 victors. Interestingly, the lineup contained two of his former teammates in Giorgio Chiellini and Leonardo Bonucci.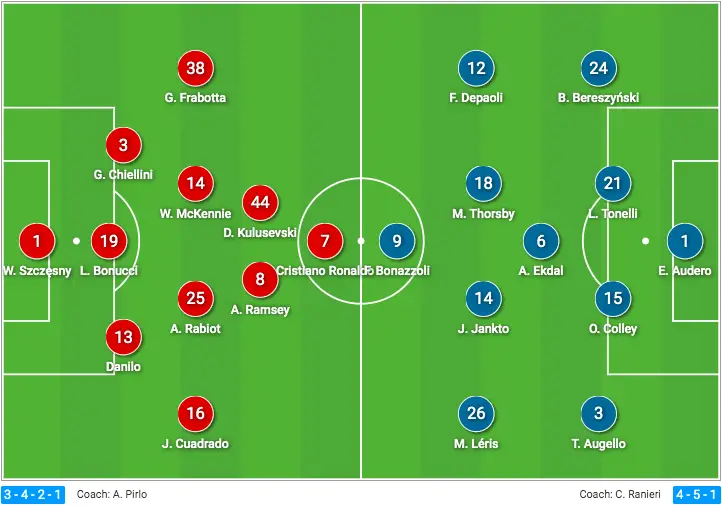 Elsewhere, debuts were given to Dejan Kulusevski and Weston McKennie, who were arguably the two standout performers on the night, but key signing of the summer Arthur Melo found himself to be an unused substitute.
The 21-year-old Gianluca Frabotta was also a member of the starting eleven, with Alex Sandro injured and Luca Pellegrini not included within the matchday squad amidst the transfer speculation surrounding him. However, the most prominent talking point, besides the structural choice itself, was the use of Aaron Ramsey and Dejan Kulusevski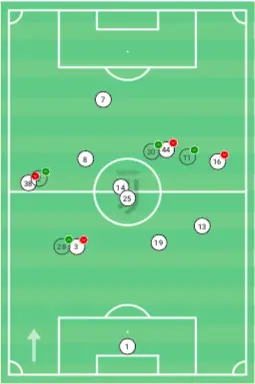 The graphic above illustrates the average positions, with Ramsey (8) and Kulusevski (44) playing between the double pivot of McKennie (14) and Rabiot (25), and behind Cristiano Ronaldo (7), to create a 3-4-2-1 formation. It should be noted this was not the case all of the time, with Ramsey sometimes dropping back into a left-midfielder spot and Kulusevski becoming the deepest striker within Juventus' 4-4-2 defensive structure (pictured below).
Additionally, both would move into the frontline when the ball entered the final third to operate around the edge of the box, as demonstrated by Kulusevski's goal, but their roles throughout the match were vital in Juventus transitioning the ball forward.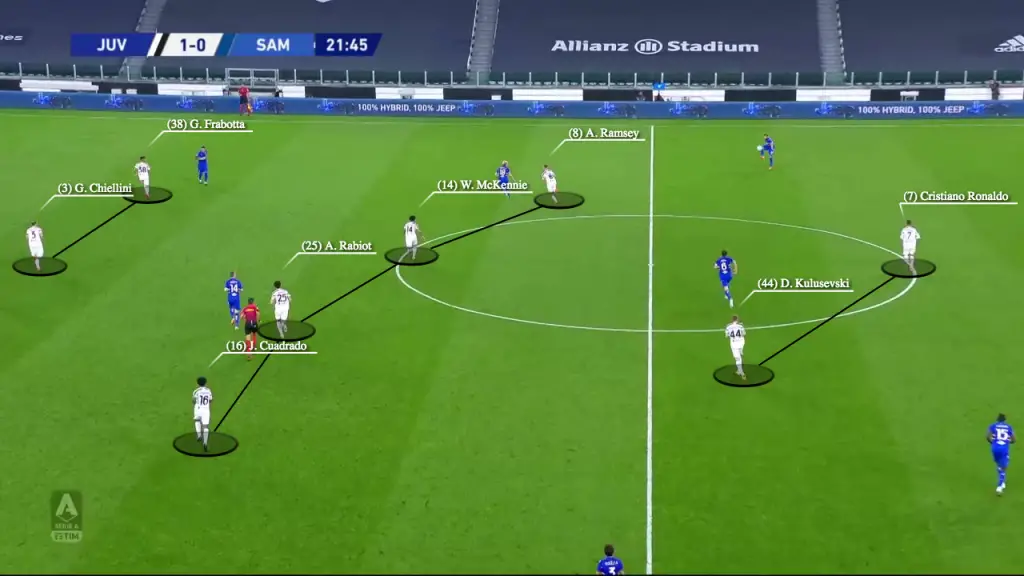 Their impetus within these positions proved to be pivotal, acting as linchpins between the midfield and attack. This is demonstrated by Ramsey's 3 key passes, making him the leading player in this metric that evening, and Kulusevski's 5 successful dribbles – also making him the lead player in that metric.
With this reasoning, it is to be expected that these roles will be the key components in Juventus' system this campaign – perhaps not season defining, but certainly very important. This will be the case if Pirlo does prove to be the ideological, rather than pragmatic based coach, we all expect him to be. Fortuitously, strength in depth in this area is a huge positive with Paulo Dybala and Arthur Melo also very well suited to this role, in addition to the pair utilised on the night. The incorporation of Álvaro Morata will also enable a slight adjustment to a 3-4-1-2 shape.
Interestingly, these are the two formations that have been popularised by Gian Piero Gasperini at Atalanta in recent times – which is a huge positive in Juventus' pursuit for their 10th Scudetto in a row.
High Intensity Play
A prominent theme consistently brought up in commentary during the fixture was the increased intensity and tempo at which Pirlo had got his side playing at. This is unsurprising, with Sarri's generally patient and quite often dull passing game being a prominent stick used to beat the former Juventus manager with. However, is this necessarily a fair statement?
In a metric known simply as Match Tempo on WyScout (which calculates the number of passes played per minute) this Juventus side only finished with 0.95 more than they did on average last season. Admittedly, this is only the first competitive game under Pirlo but, then again, this is just taking into account a performance against Sampdoria rather than some of the league's more superior teams.
Even considering the work done off the ball using a metric which quantifies the intensity of a team's press, Pirlo's side actually rank lower than that of Sarri's under the same conditions – inferior to them by 0.52 on this occasion. Pirlo's press wasn't without other deficiencies also, looking somewhat disorganised and even incoherent during parts of the ninety minutes. All of these points should be considerations for Pirlo going into ensuing game weeks.
Conclusion
In reality, it is next to impossible to foresee how Juventus' season will unfold with Pirlo at the helm – particularly as we are also yet to witness Inter, Atalanta and Lazio kick a ball this campaign. There is simply not a big enough sample size to base an entirely credible theory on at this moment in time but, nevertheless, the underlying statistics thus far do point towards very little discrepancy between the numbers of both Pirlo and Sarri.
Undoubtedly, as there always tends to be, the appointment of the former club legend and footballing icon should provide the team with a much-needed boost after a despondent end to the previous managerial era.
Furthermore, we can expect midfield players to prosper under the stewardship of an icon from this position – step forward Weston McKennie, who pleased spectators with the way he put himself about the midfield on Sunday. When the going gets tough though, it will be intriguing to see how Pirlo copes under the intense scrutiny every manager of the Bianconeri seems to receive.
Nobody could argue Juventus were undeserving of their win against Sampdoria, evidently they were the better team, but just as fortune perhaps went their way that evening, it could have just as easily gone against them – it is not completely improbable to have seen the game emerging as a draw.
Football does tend to have a funny way of working itself out over the course of a season – it is extremely rare for a team to be undeserving of winning a title, for example. Only time will tell whether Pirlo is capable of operating at this required standard and, until then, we can only speculate as to whether he can replicate the match intelligence he once showed on the pitch, off of it.
All statistics and graphics used in the article are provided by WyScout