The day after Italy's U-21 squad was eliminated from the UEFA European Championship, head coach Luigi Di Biagio has resigned. Di Biagio had been at that post since 2013, with extremely underwhelming performances in tournaments. A semifinal appearance in the …
Read more »
After a long absence, the Italian Women's National Team are ready...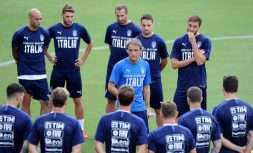 Roberto Mancini has announced his 33-man squad to face Greece and...
The Federazione Gioco Italiana Calcio (FIGC) has announced that four matches will be livestreamed on their Facebook and YouTube social media channels in the near future. A double-header on January 16 of the friendly matches of the U-17 and the …
Read more »
Italy have been officially drawn into Group J of Euro 2020...
In a performance that lacked the finishing touch, Italy was held...