In recent years, Fiorentina have been no strangers to selling their best assets to the bigger clubs in Serie A. Federico Chiesa is the most recent example this summer, with Federico Bernardeschi also moving to Juventus in 2017. This also happened in the case of Jordan Veretout, who is still at Roma after moving in 2019. Matías Vecino joined Inter from La Viola in 2017, and Josip Iličić starred at the Artemio Franchi before he got to play regular Champions League football at Atalanta.
La Viola constantly produce players that initially make a name for themselves in Florence before doing the same at a higher level elsewhere. Even though the club has been riddled with uncertainties in recent years, there is no shortage of players that could potentially attract bigger clubs in the country. The likes of Nikola Milenković, Gaetano Castrovilli and Germán Pezzella are certainly key players, but the 2020/21 campaign has been all about Dusan Vlahović's real coming of age.
With his tally of seven league goals in the season, he has been the club's highest scorer. While the start to the campaign wasn't brilliant, the Serbian exploded onto the season closer to the middle of the campaign and he continues to be La Viola's most reliable goalscorer. The team might be over reliant on Franck Ribéry's creation abilities from the role of a deep-lying forward, Vlahović has been their main source for goals.
–
The Serbian signed his first professional contract with Partizan Belgrade as a 15-year-old and then went on to make his first team debut – a rare feat in itself. He is still the youngest player ever to play for Partizan, at the age of 16 years and just 24 days. If that isn't enough, he also got the club's number nine jersey at that point and wore it for a good while too.
Before entering his teenage years, Vlahović also played for a local football school in Belgrade – Altina Zemun. Named after an urban neighbourhood in a Belgradian municipality of Zemun, the school provided young Dušan with the chance to make a connection with the local crowd as he dazzled the smaller pitches while often playing with older players of the school. A Youtube video has a young Vlahović impressing crowds at Altina Zemun while displaying similar sort of abilities that can still be seen in his game – a real eye for goal and a deceiving drop of a shoulder which can still take the opposition by surprise.
To this date, Vlahović is Partizan's youngest goalscorer and the youngest player in the famous and fierce Eternal derby against Red Star. Considering how clubs like Arsenal and Juventus were scouting him at that point, perhaps Vlahović was always destined to make it big in the game. Perhaps a move to La Viola in 2018 was a safer switch, seeing as Fiorentina have had multiple players from that part of the world come in and do well for them. From the controversial Adem Ljajić, who arrived from Partizan after a failed Manchester United move, to Matija Nastasić, Nenad Tomović and Zdravko Kuzmanović – Fiorentina have had a history of Serbian players doing well for them over the last few decades.
The common thread for all these transfers was their low-risk nature. All of them cost Fiorentina less than €10 million, and Vlahović arrived at the club at a much younger age than his fellow countrymen. La Viola shelled out close to €2 million for him in the summer of 2018. The contract was signed in 2017, but the move wasn't announced till the summer of 2018. Months after arriving in Tuscany, he became the first player born after 2000 to play for the La Viola first-team, as he came on as a late substitute against Inter. He only played about 150 minutes of league football under Stefano Pioli and Vincenzo Montella combined in the 2018/19 season.
–
It is fair to say that Vlahović did make an impact under Montella and Beppe Iachini in the 2019/20 season, as he emerged as the only shining light in a 5-2 defeat to then high-flying Cagliari. He went on to get vital goals against Napoli and Inter too, making some sort of an impact when the team was regularly in need of goals in the absence of the influential Ribéry.
As good as that spell was last season, Vlahović didn't start the season as the club's out-and-out striker under Montella. The Italian had preferred to play a split striker system with Chiesa and Ribéry, meaning that Vlahović had to stake a claim for himself whenever one of them got injured or during the rotation process when Kevin-Prince Boateng was still at the club. This season though, has been all about leading the line on a regular basis and impressing while another striker in Christian Kouamé has been subjugated.
The 21-year-old has seven league goals in the current season and while Fiorentina find themselves just seven points off the drop, the Serbian's goals have fetched Prandelli's side a fair amount of points. His goals helped them fetch a point against Sassuolo and Verona and it was his goal that really began Fiorentina's 3-0 rout of rivals Juventus. His goal proved decisive in a 1-0 win over Cagliari and more recently, he scored in a 2-1 win over Crotone too.
He has helped the team create these fine margins regularly in the season, and those are things which really matter in the longer term. Those might even be an indication of the fact that he could be capable of playing elsewhere too, if consistency kicks in soon.
–
In terms of Expected Goals, there was a period last season when Vlahović was overperforming early on – largely because he got quality shots away from low probability areas, particularly against Cagliari and Inter. As the season progressed though, he slightly underperformed on xG and as per Fbref, his xG stood at 7.9 but he scored six times in the league. Constant xG overperformance isn't really sustainable unless someone is Harry Kane or any other elite finisher.
Having said that, the current season has brought about an even bigger overperformance in his xG metrics. He has seven goals but has underperformed by as much as 2.9 already. Only Kevin Lasagna has underperformed more on xG than him, when it comes to strikers in the division. While that isn't a promising sign for 21-year-old Vlahović, he has been lethal from the penalty spot as he has slotted away all three of his penalties in the campaign.
As a result, Vlahović is one of the highest scoring strikers for the Under-21s age group in the top five European leagues. Only Moise Kean and the mercurial Erling Haaland have scored more goals than him. That, in itself, might say a lot.
As his shot map suggests, a lot of Vlahović's goals have come from the central areas of the pitch and often, he can miss high-value chances too. In the current season, he has taken close to three shots on goal per 90 minute and out of that, he has got only 0.83 shots on target per 90 minutes so far.
The shot map shows that he is a pretty willing shooter and the numbers correspond to that, even though he doesn't get too many on target and it sometimes does let him down. Having said that, Vlahović understands the art of getting into good goal scoring positions on a regular basis and that is one of the reasons why he has generated the fourth highest xG in the division, only behind Romelu Lukaku, Zlatan Ibrahimović and Cristiano Ronaldo.
It's also one of the reasons why his non-penalty xG per shot stands at 0.16 – same as Ibrahimović. He possesses the movement and understanding to get into positions where he can get shots away, and where the likes of Gaetano Castrovilli and Franck Ribéry can pick him out.
His action map (via Smarterscout) shows that a lot of his actions in the final third come near the left sided channel, which is an early proof of his ability to pick out spaces there.
One of his strengths is running into channels regularly and taking defenders with him. Not only does this allow him to pick up good positions in the final third with some running space in front of him, but it also allows other players to pick up spaces that he leaves.
Against Milan earlier this season, Vlahović spots Castrovilli picking up the ball in a pocket of space down the left. He rushes into the space between Sandro Tonali and Simon Kjær, plays a one-touch pass to Ribéry and runs into space again.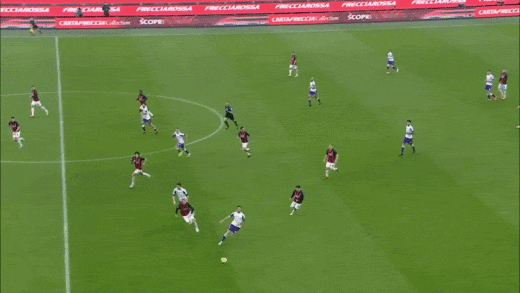 While he was positioned further away from goal in this case, it is a rough reflection of his directness as a goalscorer. He's very single-minded in his approach towards moving in front of goal.
In the same game against the Rossoneri, Vlahović makes a trademark run as soon as Ribéry drops deeper. It allows him some more running room into the space beside Romagnoli. He darts into it before anyone could pick him out.
From what is a tight angle, Vlahović does get the shot away and hits the post. This is another reflection of his reading of the spaces around him and his ability to carve out openings for himself.
Against Verona in Fiorentina's 1-1 draw, Vlahović once again showed his movement to find some space to get a glancing header away from a Cristiano Biraghi cross. There is a brief moment when Koray Günter seems to be well in charge of him and Vlahović is behind the Turkish defender. But a split second later, the Serbian is quick to get in front of him and glance a header wide.
While Vlahović's ability to be aggressive in this regard really shone through in his goal against Juventus, he showed his understanding of spaces in the opposition backline with a strike against Inter last season. It was one of the most impressive goals he has scored in his senior career – perhaps more prominent than his goals against Cagliari last season.
This goal is more about ruthless running into space while on the ball and being utterly single-minded about finding the back of the net. It also showcases his ability to carry the ball while facing the goal.
The goal, in this case, comes from a low xG chance – 0.08. But it is another reflection of how he constantly tries to carve openings for himself in a rather no-nonsense manner. He still carries glimpses of what he approached the game like during his time at Altina Zemun.
His first touch may not be completely reliable yet, as he constantly gives the ball away as a result of miscontrolled attempts. But his movement around the opposition backline makes the Fiorentina attack look smoother than they are without him. He may not be excellent with his back to goal but he is more into playing with his face to goal and even with running at the opposition defence.
He averages 6.86 pressures in the final third, which is quite a reliable number for strikers especially considering that Fiorentina haven't been a team that thrives on pressing high up the pitch. But the foundation might be there for him to notch up better pressing numbers in a better team.
His finishing might not be top class but what he already has is a building block for the future. His ruthlessness when it comes to running in-behind and running into channels screams of him being a willing goal-getter. He isn't perfect but the fact that he gets into good positions around the goal shows that there is a solid foundation for him to improve and once his finishes reach the mean, he could well become a player for a top club.