With Tammy Abraham impressing in Serie A for Roma, Pramit Bardhan looks at why the Englishman is already attracting interest from Arsenal, Manchester United and Tottenham Hotspur.
Four teams, 20+ goals in a each season for each of the seasons he played at just 24 years of age. That, in short, is how remarkable of a footballer Kevin Oghenetega Tamaraebi Bakumo-Abraham is. Since moving on to Roma in 2021, Abraham has elevated his game to a completely different level, attracting the attention of the biggest names in Europe. 
Although he has been impressive for almost the last five or six seasons he has played, it seems like his hard work is finally paying off as he is slowly moving into the limelight. So, let's delve deeper and encode his slow but steady rise on the footballing ladder.
Style of Play
Tammy Abraham is the perfect, all-round modern centre forward. Playing as a target man due to his height in his early days at Swansea and Aston Villa, he has also played as a more complete CF at Roma and Chelsea, using his holdup and linkup play to get more involved in buildup. Generally regarded as a very efficient striker, he takes high quality shots from very good regions, scoring most of them. In short, he can score from very few chances. 
He is mostly positioned between the centre-backs, acting as a target man to get to the end of the crosses. Although he gets caught offside many times while playing on the shoulder of the last defender, it has certainly reduced as he gets better with his understanding of the game. 
Under Frank Lampard, we could see Chelsea overloading the wings to draw opposition players and isolating Tammy in space between the defenders to use his heading abilities. Mourinho at Roma has almost adapted a similar approach.
At Roma, Tammy has certainly stepped it up, his all-round play being better than ever. His holdup play means he can play balls to the inside forwards Henrikh Mkhitaryan, Lorenzo Pellegrini and Nicolo Zaniolo. His strong heading ability means that he is also present at the end of crosses by the wingbacks. In short, he is a menace for opposition defenders, who never know how he'll attack because of his unpredictable nature.
Analysis
In the 39 matches he has played this season until now, Abraham has already scored 23 goals, and has got four assists. While it may seem unsustainable to many, the truth of the matter is that he has been doing the same for many seasons now.
Looking at his underlying stats, he is actually underperforming until now, hitting the post several times. In all fairness, he is actually underperforming his npxG by a lot, suggesting that he could do even better in the seasons to come, both with respect to his goals and his assists.
He is also a very good finisher, being able to score from very few chances.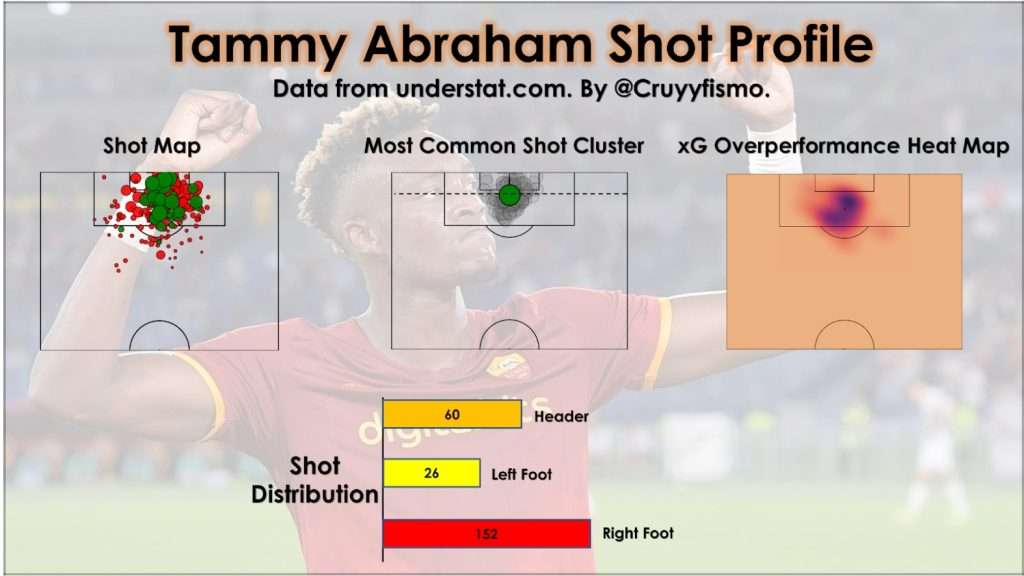 As you can see from his shot profile, he likes to take his shots from central positions, in front of the goal, which is extremely good for a central forward, signalling the ability to get into goal scoring positions inside the box. He is mostly right-footed, but also quite efficient with his head – as we all know.
Tammy takes a lot of shots of high quality which further tells about his ability to get into elite goal scoring positions using his movement.
The best part about Tammy's play is surely his movement. At 190cm of height, while he may seem a bit lanky and unathletic, he is actually quite athletic and quick to move about the final third. Both his on-the-ball and off-the-ball movements are really good, paired with an extremely good understanding of the game.
As you can see from the above clip, he is extremely smart and deceptive in his movement. Seeing Phil Foden dribbling his way on the edge of the box, he first moves out by a bit to give the impression that he's moving back into space towards the edge of the box, and then recoils fast to get back towards the goal and slot it in.
Another example of how he can manipulate defenders with the help of his movement. Running on the blindside of the defender, he gives the impression that he is going to keep running straight into the space in front of the goalkeeper.
However, at the last moment, he changes his direction and cuts inside to the space behind the running defender, who is still under the impression that Tammy is running straight due to his blindside run. By the time he realises, it's too late.
Besides being good with his movement to get into goal scoring positions, he also doesn't mind making runs for the team and more importantly, is intelligent enough to make those runs.
Initially, while he was on the shoulder of the defender during the counter-attack, he understood that receiving the pass from Pulisic would not be as efficient as someone receiving the ball on the wings, where space was plenty. Thus, he makes a run to draw the defenders from the wings, which allows his teammate on the wings to receive the ball in space.
Being a poacher in the modern sense means that he is always very eager to make runs to get to the end of passes and does very well anticipating them too.
Here, seeing Jorginho coming forward with the ball and anticipating the opportunity of a ball over the players, he makes a run between the two defenders to receive the ball and ultimately score. Hard work always pays.
When I say that he frequently gets into goal scoring positions, I meant it. He has elite anticipation, many times making runs before the defenders can even move. His shooting prowess means that he can successfully finish off the goal.
Here, we can see him making a run even before the player has even taken his shot, let alone the defender reacting to the rebound. That's how good his ability to get into goal scoring positions is.
He also has very good recognition of space, always tending to attack it and knowing when to make the run. Almost like he is always one step ahead of the defender.
In the above clip, as we can see, he starts his run on the blindside of the two defenders and gets to the end of the pass to calmly chip it. Something worth noting is that football is all about repetitions. When you make the run over and over again, there has to be one moment when the pass connects and you get the ball. Tammy does just that. Again, hard work pays.
Taking the above point further, here we can see how he asks for the ball immediately after he sees the space in front of him, making his run and scoring. Just like I said in the beginning, an overload is created in the wing area, which makes the defenders lose focus from Tammy.
And on the topic of crosses, here's how good his header is.
The most eye-catching part is surely how, crowded and marked by defenders, Tammy makes that perfect spot jump to score the header. His aerial ability is certainly really good, which has made most of his coaches play him as a target man in the box.
And moving on, we come to another interesting and underrated part about his game – holdup. Well, not underrated any more since his move to Roma, as he has come under the spotlight several times for it.
As you can see from the above clips, Tammy is an expert in dropping deep, receiving the ball with his back to the goal and progressing it goal wards – a very useful skill to have in modern day strikers. Even during his Aston Villa days, he was frequently seen in the middle of the pitch to help the team progress, something he has become even better at doing in Roma. 
In the above clip, at Roma, we can see how he effectively receives the ball with his back to the goal, following it with a one-touch pass before making a clinical run behind the defenders. Very much similar to Harry Kane. 
Another part of Tammy's game is his skills. It always feels like he has a lot of skills up his sleeve, but barely shows them, or does them only when he needs them. He isn't a typical showboating type forward.
This season under Mourinho at Roma, Tammy has started to dribble more, mostly to get out of defenders crowding him.
He has been very good in dribbling the ball out of tight spaces, crowded by defenders.
He has also started receiving the ball more on the wings compared to last season, thus effectively stretching the opposition defensive lines, which also helps in bringing in the inside forwards into play as they run into space.
He also contributes defensively, making an above average number of pressures in the attacking 3rd in the Serie A. Although his tackle or interception numbers are not that high, he often is very useful to his team with his positioning to cut off opposition passes in buildup.
Also, making a high number of touches in the box and having high involvements means that he helps the team dominate and pressurise the opponent penalty. For example, Barcelona didn't have a penalty box threat for the start of the season, and they suffered as they couldn't dominate or play passes in the box. Thus, they couldn't score much. Tammy provides exactly that penalty box threat that many teams in Europe currently lack.
In terms of his passing, he certainly has the vision to make a pass, but seems to mistime it most of the time. Averaging about 1.1 Key Passes per match, while it is quite good for a poaching striker, he can be even better if he works on his passing, mostly the timing and weight of the pass.
Conclusion
There's no stopping him, honestly. His phenomenal rise has been coming for a long time, and he has been duly rewarded for all his hard work. Probably one of the most complete centre-forwards in recent times, he is only 24 years of age and still has a long way to go.
Having abilities of a target man, poacher and a holdup player, he is the true epitome of a modern striker. Leaving aside sloppy shooting sometimes, Tammy probably has no deficits whatsoever, even after playing in 3 or 4 different systems in different clubs. 
While he didn't stretch the lines as much before Roma or didn't contribute as much in buildup, he has levelled up in all the ways after his move to Roma. Now, all that's left to see is – what can stop the rise of this 24-year old.