With Sassuolo now well past the mid-season mark under Alessio Dionisi, Sai Hemanth Tiruvuri looks at how they have progressed under the ex-Empoli manager.
The Neroverdi have met with a fair share of different results this season. From making comebacks to blowing away leads, Alessio Dionisi's men have witnessed both ends of the spectrum in matches this season. But what's more important is that, with more match footage and more available data, there are a lot more evident patterns of progress and weaknesses than there were early on in the campaign.
Let us take a close look at how all departments of the club have fared so for this season (as of the 21st Game week mark).
The Backline
One of the most commonly observable deficiencies in the backline is the lack of organisation amongst the players while defending transitions. There have been multiple instances where players did not seem to know what position they must occupy to block passing lanes or cut off a potential threat of an incoming cross.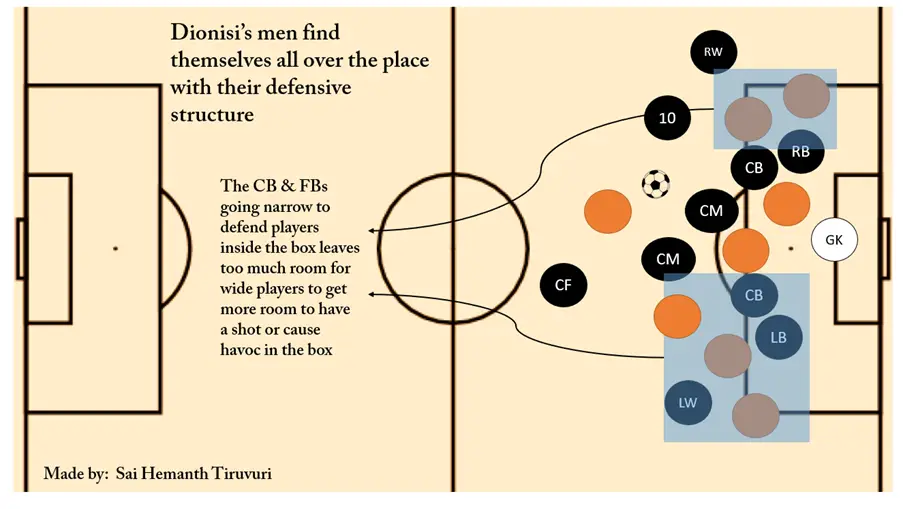 Another issue that has been persistent since the beginning of the campaign is defending players on the back post. The lack of positional awareness while defending in such situations leaves wide players with acres of space to get a shot off easily on goal.
Defending crosses and set pieces hasn't been a pleasing watch either. Often the reaction time to deal with the headers is late, leading to the opposition targetting the long ball approach more.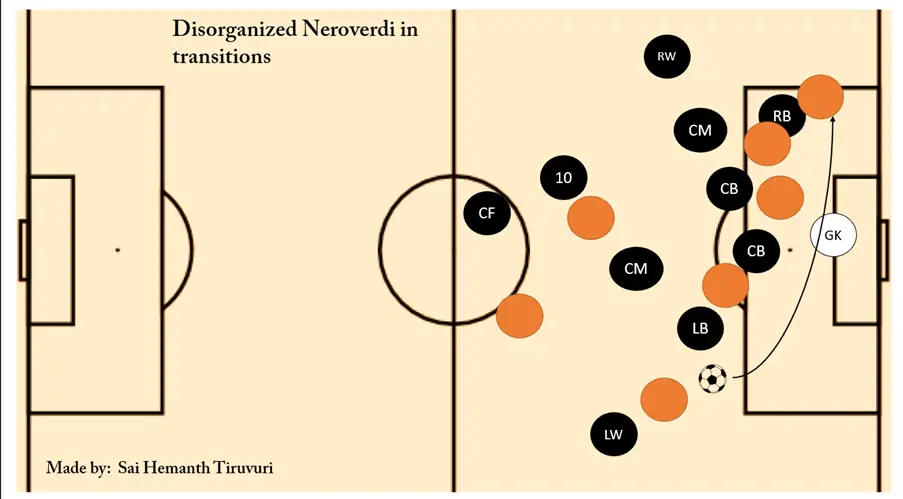 On certain occasions, it has also been observed that the Neroverdi allow a free run for midfielders through central areas. When such instances were analysed much closely, it turned out that it is the inability of the side to deal with oppositions that stretch them wide out of possession. Naturally, it has been evident against sides that deploy a 3 at the back system which provides wingbacks natural width to exploit, adding to the manager's headache of his existing backline issues.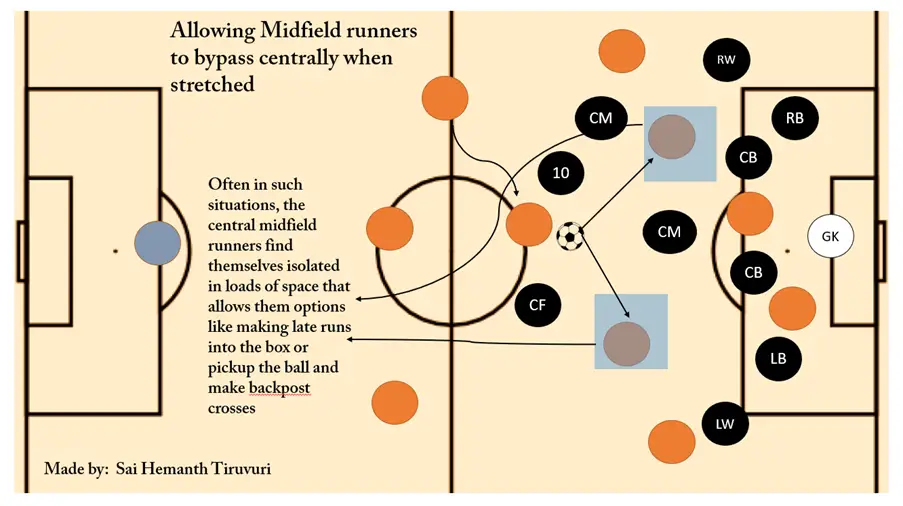 Dionisi's men have conceded 33 goals so far in 21 Games, which indicates they are conceding just over a 1.5 goals per game and that is concerning, considering they have only kept 2 clean sheets in 21 games and have a clean sheet percentage of a shocking 9.5% which is the 2nd joint worst percentage of clean sheets kept in the whole of the division. 
As per websites such as Understat and FbRef, Sassuolo's Expected Goals Against Metric (xGA) is 30.2 which indicates that they have conceded about 2.8 more goals than they should have. 
On more of a positive slant, it is to be noted that goalkeeper Andrea Consigli's sweeping has been a bonus for the gaffer in his quest to implement a higher line while in possession. His distribution has also been admirable along with his shot stopping that often bails out the men in green in dire situations. 
Gian Marco Ferrari's progressive passing has proved to be a vital aspect in switching the phase of play. Being a left footer and playing on the left side of an often deployed back 4, Ferrari finds crisp angles to find the No. 10 or one of the wingers in possession to progress play quickly. 
All in all, the backline is an area that Dionisi would desperately want to improve (especially out of possession) during the remainder of the season. 
The Midfield
One of the areas of promise for Sassuolo has been their central midfield. The duo of Davide Frattesi and Maxime Lopez has gone on to become the go-to pivot option for the manager. Both have matured into understanding their roles and responsibilities in a much more efficient manner over the course of the season so far. 
Frattesi has been adapting and improving his trait of adventuring forward more often and is starting to get more involved in build-ups and goals himself. Goals against Venezia at home, Juventus, Udinese & Fiorentina – away have been a delight to watch (Nearly all of them coming from late arriving runs into the box). 
Lopez on the other hand has been developing his trait as a lone DM. He has become a pivotal part of the Neroverdi midfield setup. Without his involvement, the opposition have found it easy to bypass the midfield through central areas. 
This was evident against Udinese away from home when Lopez's unavailability in the squad meant that 37-year-old veteran midfielder – Francesco Magnanelli was deployed in what looked like a lone DM role alongside Frattesi and Hamed Junior. 
For all the technicality and experience the Italian possesses, he couldn't keep track of the runners bypassing through the central areas which added to the side's existing issues of dealing threats from wider areas of the pitch. Eventually Dionisi had to shake things up by changing into a 4-2-3-1 with Abdou Harroui and Matheus Henrique deployed in the double pivot behind Grégoire Defrel and Gianluca Scamacca subbed up top. 
Not only has Lopez been an able progressor of the ball but he has also portrayed his ability to secure it very well. On a 19-game week sample (As shown in the visualization below), the Frenchman has averaged about 12.83 Progressive actions (A combination of Progressive Passes and Progressive Carries) & 7.62 Turnovers (A combination of failed dribbles, failed passes, Miscontrols of the ball and, Dispossessions) per 90 minutes. 
When compared with players who operate in similar positions across the division, he comfortably places himself into a category of midfielders, who secure the ball well along with progressing it forward with good ball progressing abilities. 
The Forward line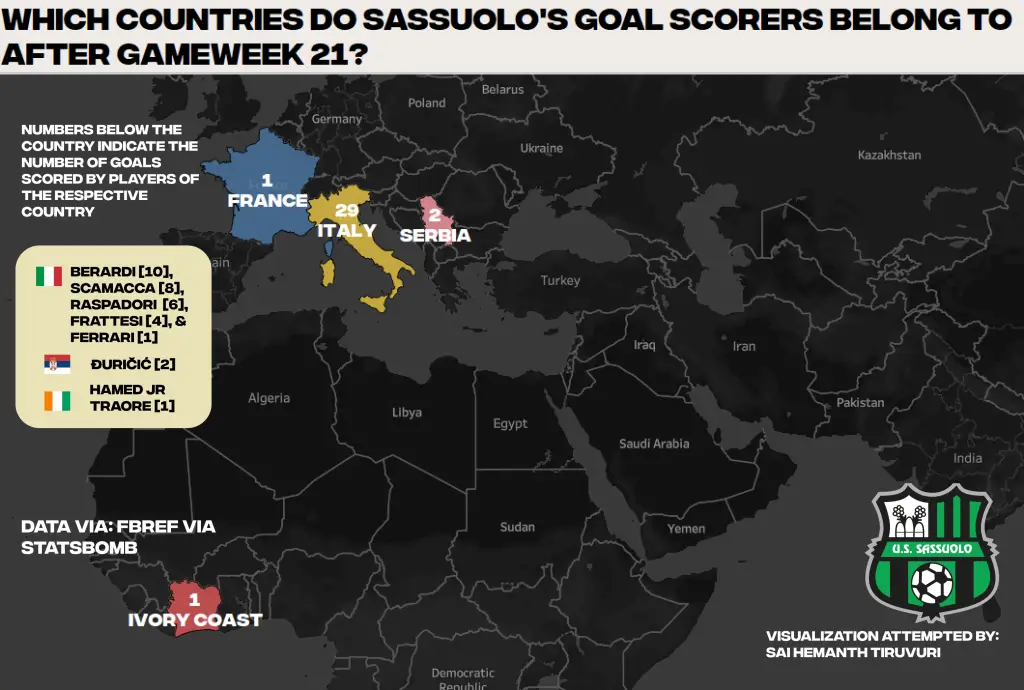 This has been an area dominated by extremely talented Italian individuals. 29 of the side's 33 goals in 21 game weeks have been scored by Italians and there has also been an active involvement from them in terms of assists as well.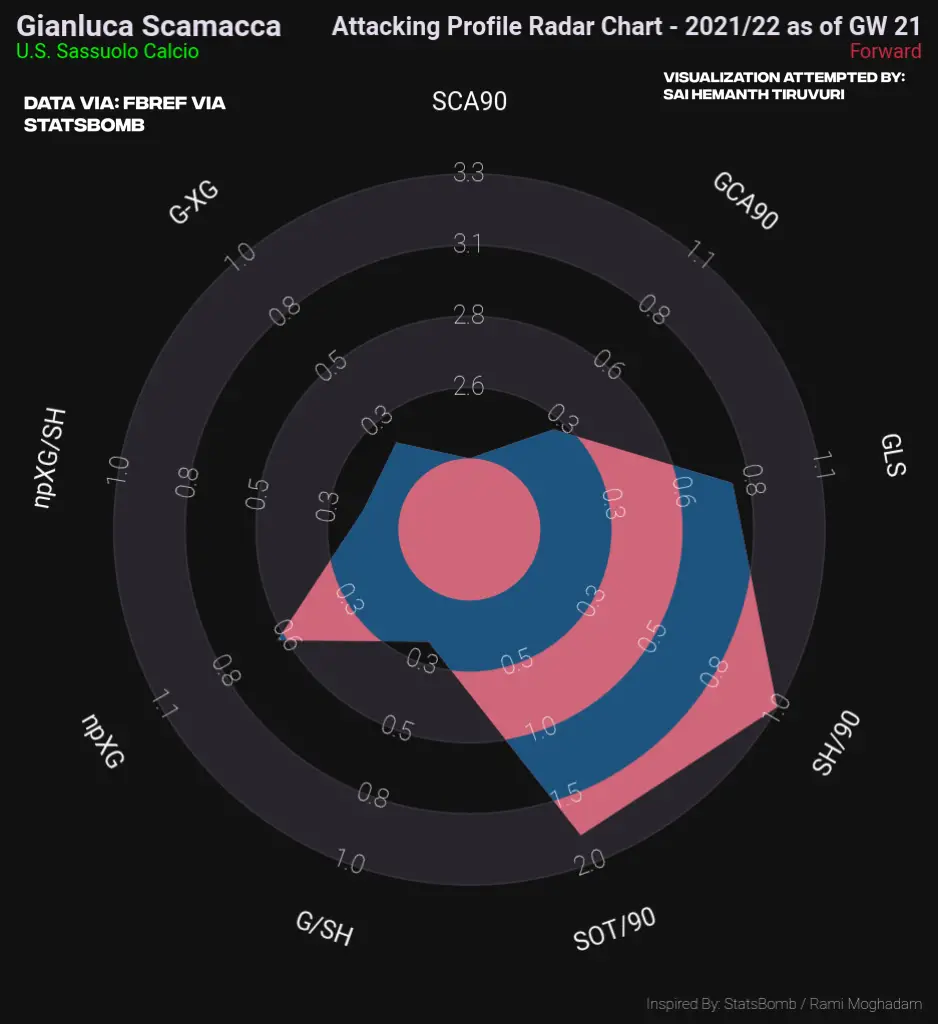 With Caputo's loan spell confirmed earlier in the season, Dionisi mainly rotated amongst his three obvious striking options of Giacomo Raspadori, Gianluca Scamacca and Gregoire Defrel to lead the line.
The former two of them have been the most effective in terms of goal involvements for the Neroverdi this season. Scamacca, who has 8 goals in 21 appearances this season, has been averaging about 0.60 Non-Penalty Expected goals (npxG) per 90 mins, which has been the joint highest for a forward in the league along with Inter's Lautaro Martinez.
His 0.8 goals per 90 averages, has been impressive too. What stands out is his physicality as a player that allows him to be aerially dominant, decisive in finishing (with the way he positions himself while taking shots or attempting a chance) and drop back if needed to link the play up in deeper areas.
Giacomo Raspadori, who had been used as a number 10 and on the wings by former boss Roberto de Zerbi during his initial games last season, has been deployed in those same positions by Dionisi very often this season as well.
With Scamacca's physique to be a more demanding forward upfront who can threaten opposition center backs, it makes sense why a good deep lying, linkup forward with good dribbling ability like that of Raspadori would be used in wider areas or in areas behind the main striker.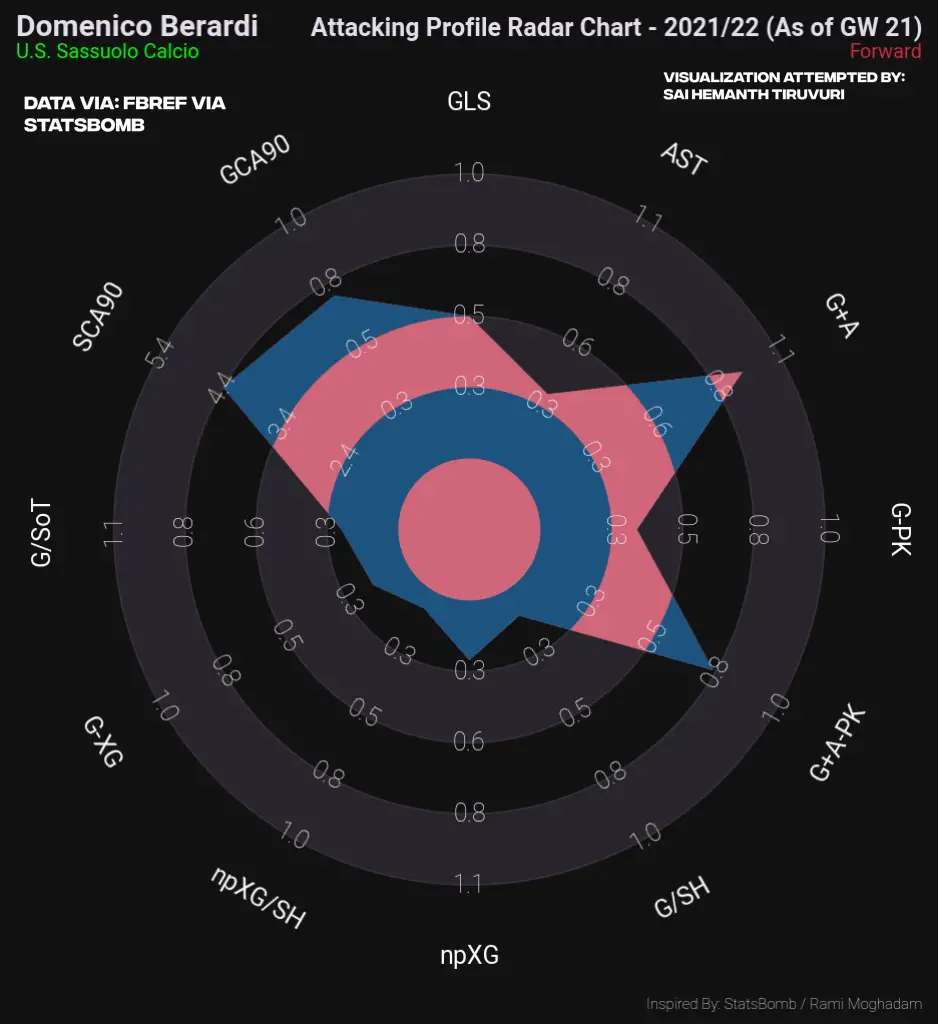 But if there is one driving force in that Sassuolo frontline, it is the starman, Domenico Berardi.
Season after season, the Italian has arguably been the most important player for the club, and it is going to be extremely difficult to replicate his output when he eventually gets his long-awaited move – possibly in the summer.
Berardi is 5th on the top Serie A goalscoring tally with 10 goals this season and is the joint Assists leader with 7 Assists. His underlying metrics also speak volumes for why he is such an important figure in that squad with 4.4 Shot creating actions per 90, and about 0.93 goal involvements on average per 90 making him the most inevitable contributor in most of the side's goals.
On a more technical aspect, his game drifting into more central areas and operating in those half spaces seems to have gone up a level under Dionisi as that has appeared to be another weapon in his armoury to cause more damage to the opposition.
His diagonal switch to Maxime Lopez right at the death to win the game away against Juventus at Turin would surely go down as one of the most memorable moments for Neroverdi fans in their recent history.
Dionisi's tactical versatility
The Italian has shown that he can switch into numerous formations in-game and from one game to another. He started off the season more often with a 4-2-3-1 and eventually started venturing into a 4-3-3 as games progressed. He has also used the 4-4-1-1 and 4-3-2-1 on certain instances and has shown that he can switch out to a 5-3-2 or a 5-4-1 for seeing out games and be more defensively secure as seen in the game against Juventus away at Turin.
Arguably, his most admirable quality as a manager is the fact that he is quite bold, fearless and brave, regardless of the opposition he faces and the fact that he tries to dominate possession in a high line and tries to go toe to toe with oppositions on most instances is quite a defining attribute.
He is trying to develop a tactic to use the long ball forward, to increase directness of passing to front men for a much quicker defence to attack transition. It would be interesting to see how that approach develops or pans out during the rest of the campaign.
Apart from the numerous defensive issues stated above (which are mostly down to being fundamentally structural issues), set piece coaching is still something that looks to be in the works for the Italian's coaching staff, as not many goal scoring opportunities have been created using set plays.
In conclusion, his risk-taking nature as a coach is one that comes with high risk and high reward but ultimately that is something that makes Sassuolo's games extremely entertaining and engaging to watch.
All stats via FBref/Understat